Up For Sale is A Book Called
A Guide To Captive Foraging
The Next best Thing to Being Free
Fun DVD About Your Bird
You will look forward to Reading All About Your Bird.
Knowledge about your bird is important, be part of your bird's life.
The Captive Foraging is a must see DVD for every bird owner - absolutely captivating.
In the wild, birds would spend a good deal of time looking for food.
When we give them their meals in a neat little dish, we take away their 'job' leave them open to boredom, frustration, and other unpleasant effects.
Learn about natural foraging behavior and how you can use foraging in your bird's captive environment to redirect energy and prevent unwanted behaviors.
This video has something for everyone, from novice to expert, you will refer to it again and again for new ideas and inspiration. Our bird reviewers agree, it's the feel good hit of the year!
Running Time:- 30 Minutes.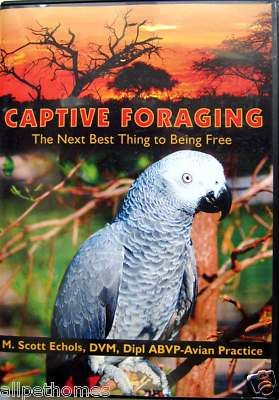 About Dr M. Scott Echols: Dr Echols.
He is a board certified Avian Veterinary Specialist.
Received the 2005 Ted Lafeber International Avian Practitioner of the Year award and the 2007 Texas Non-Traditional Species Veterinarian of the Year award.
Scott is an Adjunct Professor at Texas A&M College of Veterinary Medicine, a past President for the Association for Avian Veterinarians, a frequent lecturer at multiple universities and conferences in the US and abroad, as well as author and filmmaker.
He founded Avian Studios to create educational media that help people improve and enrich the lives of captive birds.
Great Present for Your Pet Lover Friend!
ALL PRODUCTS ARE SENT BY WAY OF RECEIPTED DELIVERY , WE DONT WANT YOU TO LOSS YOUR VALUABLE PURCHASE.
If combined with the purchase of a Bird Cage, Ladder, Diaper or Playground , Postage for the DVD is FREE.
Authorised Stockest of ABK Publications
Payment is to be made within 5 Days of end of Order.
I Will post as soon as funds have cleared.
All Items Leave within 48 Hours of Payment, We send all Items With Australia Post
Please be sure to identify your order with payment, use your SURNAME ONLY as the ref. We will contact you via email within 24 hours of completion of this order, and request that you reply with your name, delivery address and preferred payment option.