HUTCH COVERS
SUIT RABBIT / GUINEA PIG

HUTCH'S
These Pet Homes High Quality Covers have been designed for Pet Homes Brand Rabbit Hutch's.

Using The Cover will Guarantee Hutch is protected from the elements,
And also providing your pet with added comfort and security.
The cover prevents rain entering the hutch so bedding does not get wet.
It also makes your hutch more secure against predators.
Cover is 100% Waterproof.
All Covers Have Clear Plastic Over Mesh Areas.
Cover Front Can be Rolled Up and Secured.
Each Zippered Section can Be Rolled up for Ventilation purposes.
The rabbit hutch will be completely covered up by this insulating and water-repellent protective cover..
That way Rabbits/Guinea Pigs are protected against rain, wind and low temperature, so that they feel snug, like being in a cave.
Zippered covering in front of the hutch's door can be simply fastened by Velcro fastenings
Plastic window with venting slot in front of the lattice ensures an optimal air circulation lateral zippers allow to pull out the tub easily
Roof and door can be completely opened, even with protective cover on it
With extra opening for attaching and filling the drinking bottle
Quick and easy fixing due to Velcro fastenings
Drink bottle it's not included
Comes in a storage bag, for when not in use.


Please ensure you purchase the cover to fit our Hutch as returns can be costly.
This listing is for rain cover only, it doesn't include the hutch.
Note: These covers are designed for our Hutch's, we make no claim it will fit another brand

WE RESERVE THE RIGHT TO MODIFY OR CHANGE THE SPECIFICATION OF ANY COVER.
The item is hand made so allow for any minor variations and inconsistencies as product is not mass produced by machines in a factory.
| | |
| --- | --- |
| | |
| Permanent Ventilation | Spout Not Included In Sale |
AVAILABLE FOR:
Luxury Medium Guinea Pig Hutch Cover (G101)
FOR COVER SIZE SEE G101 HUTCH ADVERT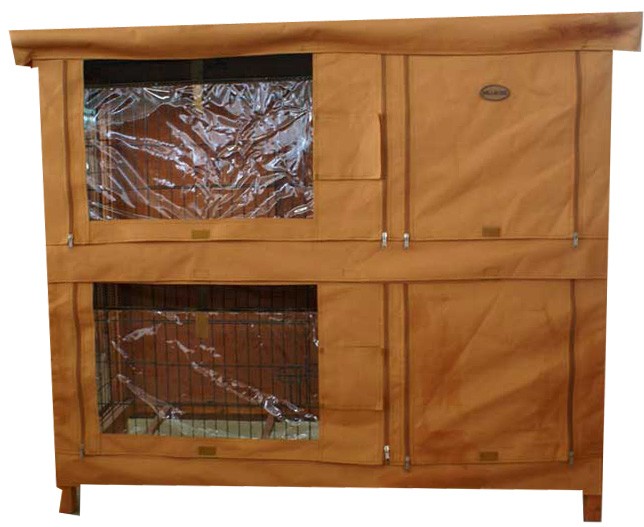 Huge Double Guinea Pig Hutch Cover (G104)


FOR COVER SIZE SEE G104 HUTCH ADVERT

IF ITEM IS SENT BY RECEIPTED DELIVERY
IF YOU ARE NOT HOME AT TIME OF DELIVERY ,
YOU WILL BE REQUIRED TO COLLECT ITEM FROM POST OFFICE

IF ITEM IS SENT BY COURIERS
IF YOU ARE NOT HOME AT TIME OF DELIVERY ,
YOU WILL BE LEFT A CALLING CARD
YOU WILL HAVE TO CALL FASTWAY FOR REDELIVERY
This product does not have any reviews yet
Be the first to review this product