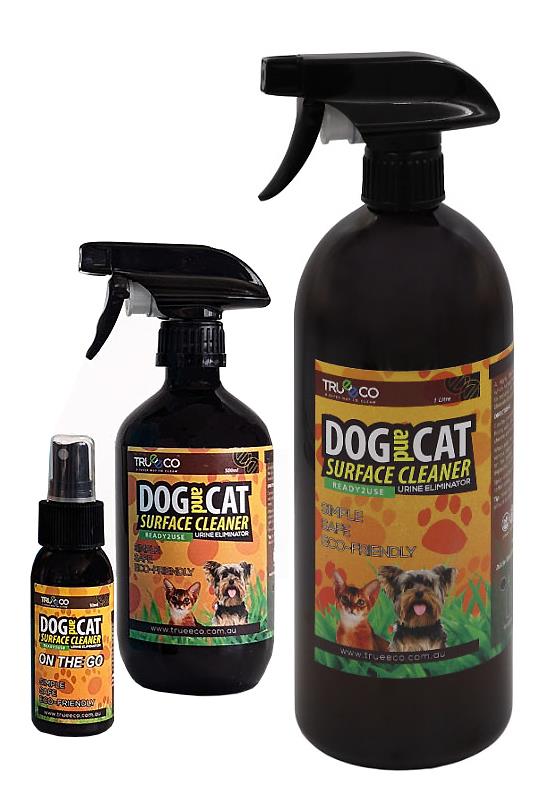 1x 1000ml Dog and Cat Surface Cleaner (RRP $25)
1x 500ml
Dog and Cat Surface Cleaner Ready2use (RRP $15)
1x 50ml Dog and Cat On the Go Ready2use (RRP $5)
The Dog and Cat Surface Cleaner is a pet owner's new best friend when it comes to cleaning up after their furry little friends.
Includes:
Description
With the use of Powerful enzymes designed to breakdown the source of odours this eco cleaning solution is safe for pets, humans and all surfaces.
Great with cleaning all accidents including urine, feces, vomit, drool and any other nasties.
Safe and effective on all surfaces including carpet, wood floors, tiles, marble, leather, fabric and much more.

You will be sure to tackle any mess while at the same time protecting your surfaces from damage.
Not only is the Dog and Cat Surface cleaner purrfect for inside the home it works wonders outdoors too.
Remove that urine smell from large areas by simply spraying the product on the patio, concrete floors, grass (real and artificial) and allowing the enzymes to go to work.

Concentrate is designed to save money and plastic waste. Mix 25mls concentrate to 500ml Water (measuring cap included).
This will allow you to generously spray on all surfaces without it costing you a fortune. Take advantage of our FREE Gift offer on all concentrate purchases.
If you are unsure the Starter Pack is a great place to start your TRUEECO journey. Once you experience the TRUEECO difference the concentrates will be the way to go
Safe Cleaning
Brisbane : :- Local pickup Welcome, No need to pre-purchase, Pay on pickup,
ITEM IS SENT WITH TRACKING NUMBER
IF YOU ARE NOT HOME AT TIME OF DELIVERY ,
YOU WILL BE REQUIRED TO COLLECT ITEM FROM POST OFFICE

WE RESERVE THE RIGHT TO SEND MULTIPLES BY COURIERS,
IF YOU ARE NOT HOME AT TIME OF DELIVERY ,
COURIERS WILL LEAVE CALLING CARD FOR YOU TO ARRANGE RE-DELIVERY.

MANY COLOURS TO CHOOSE FROM -
Sometimes colours can vary slightly depending on your computer monitor colour settings - colour names are pretty accurate
If Paying by Bank Transfer Please be sure to identify your payment,
use your ORDER NUMBER or SURNAME ONLY as the ref.
This product does not have any reviews yet
Be the first to review this product