The Zeez Dog Coats
ZEEZ Supreme
feature buckles that are high quality, strong, sophisticated, and so easy to use with their quick snap function.
The Supreme exteriors come in a variety of exciting colours
Which are made from Supreme coat tough 1680 denier jacquard polyester that has been PU Coated, making it water resistant.
Zeez Supreme Waterproof Dog Coat is lightweight, durable and comfortable.
It is a fabulous redesign of the ThermoMaster.
Polypropylene cotton filling and luxurious, soft faux fur interior lining ensure your dog stays warm on cold days.
The new look buckles are high-quality and so easy to use with their quick snap function.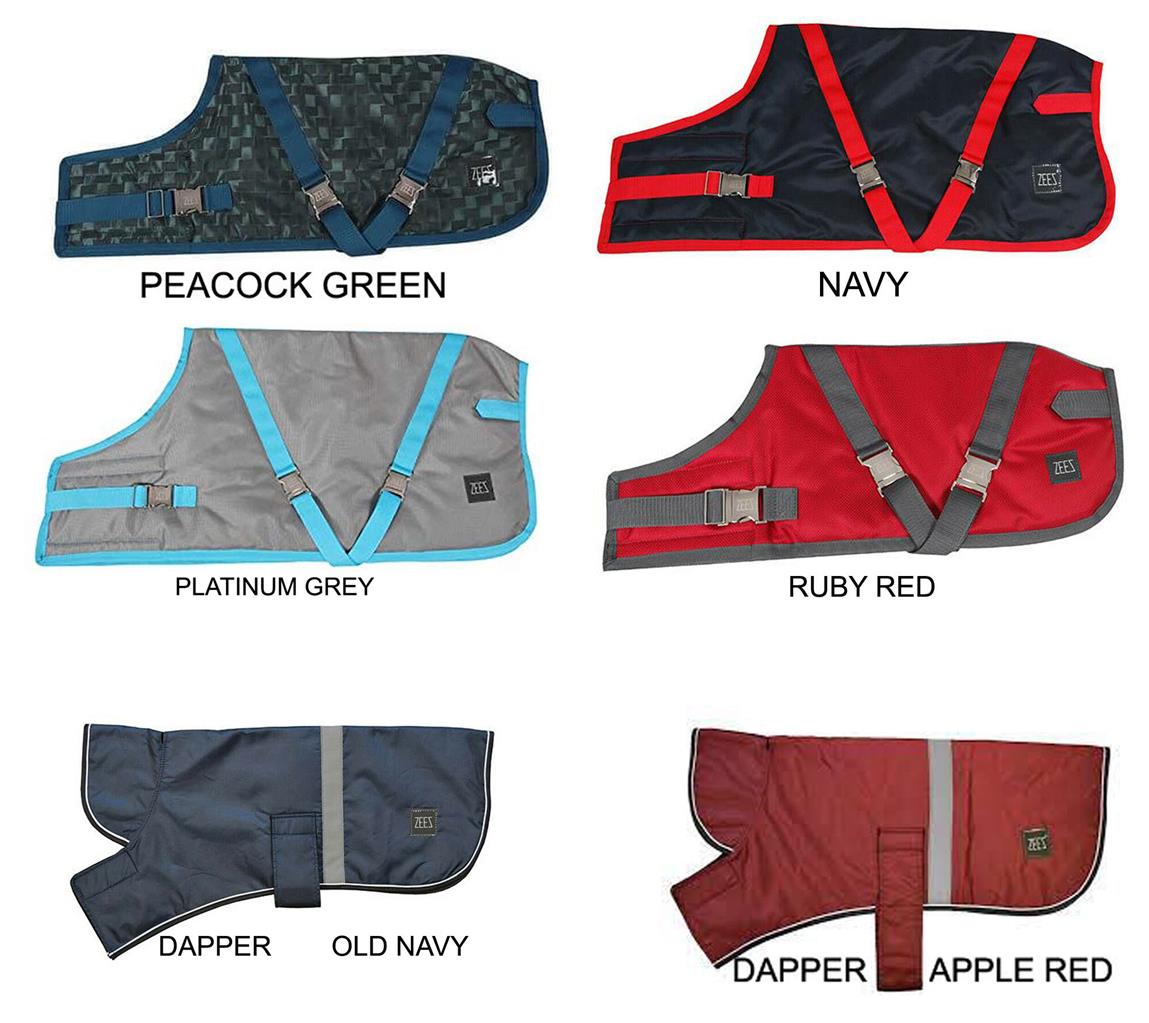 ZEEZ Dappe
r Dog Oil Skin Coat is great too keep your pet warm during the cooler months.
It features a reflective strip and a hole has been left to make it easy to attach a lead to your dogs collar.
The front and belly straps have Velcro closures for easy adjustment making it easy to get a comfortable fit.
It also features a collar that can be worn forward to cover your dogs neck or back over your dogs shoulders.
The outer shell is made from made from 100% waxed cotton to keep water out and your dog dry! The inner is lined with polar fleece to keep your dog warm.
Breed Suggestions for the ZeeZ Supreme Coats - Use as a guide only

Size 10 (25cm) - Pomeranian, Maltese, Silky Terrier and Similar

Size 12 (31cm) - Cavalier, Pug, Jack Russel, Shi Tzu and Simlar

Size 14 (36cm) - Poodle, Scottish Terrier, Beagle, Cocker Spaniel, French bulldog and similar

Size 16 (41cm) - Staffy, Corgi, Schnauzer, Fox terrier and Similar

Size 18 (46cm) - English staffy, Bulldog, Border Collie, Boxer and Similar

Size 20 (51cm) - Border Collie, Boxer, Dalmation and Similar

Size 22 (56cm) - Dalmation, Husky, Doberman, Labrador, Golden Retriever, and Similar

Size 24 (61cm) - Golden Retriever, Labrador, Husky and Similar

Size 26 (66cm) - Golden Retriever, Labrador, Husky, German Shepherd, Rottweiler and Similar

Size 28 (71cm) - German Shepherd, Rottweiler, Irish Setter and Similar

Size 30 (76cm) - Mastiff, Newfoundland, Great Dane, Neopolitan Mastiff and Similar

Size 32 (81cm) - *Very large breeds* - Mastiff, Newfoundland, Great Dane, St Bernard and Similar

Brisbane : :- Local pickup can be arranged at UNIT 1 - 10 MILTIADIS ST ACACIA RIDGE 4110
TEXT seller for Special arrangements.
I Will post as soon as funds have cleared.
All Items Leave within 48 Hours of Payment.
Please be sure to identify your Win with payment, use your ORDER NUMBER or SURNAME as the ref, ONLY
We will invoice you via email within 24 hours of completion of this auction, and request that you reply with your name, delivery address
Thanks Heaps & Happy Trading!